After I finished the second season of Handmaid's Tale, which was amazing, but with too much drama and tragedy, I needed something slightly easier to digest and prettier to look at, so I saw the third season of Animal Kingdom. I love this series, so I thought I'd write about it here.
Animal Kingdom (the TV show) is based on an Australian movie made by writer and director David Michôd in 2010. It starred Jacki Weaver, Ben Mendelsohn, Guy Pearce and Joel Edgerton, and had great reviews, plus an Oscar nomination for Best Supporting Actress for Jacki Weaver.
TNT decided to make it into a series in 2016 and brought in a great cast: Ellen Barkin, Scott Speedman, Shawn Hatosy, Ben Robson, Jake Weary and Finn Cole.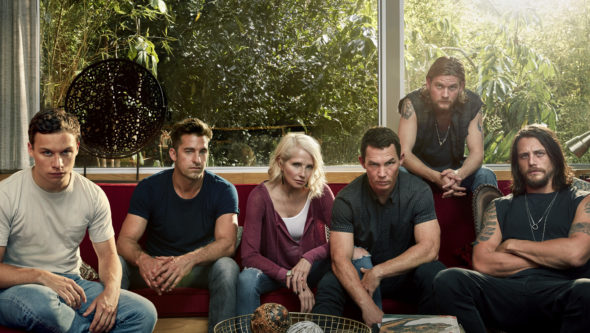 I'm not good with explaining a storyline, so here is what 
Wikipedia
 says: "The series follows a 17-year-old boy, who, after the death of his mother, moves in with his estranged relatives, the Codys, a criminal family clan governed by matriarch Smurf. In order to stay alive, J must prove loyal to his beguiling grandmother, who rules with a borderline-incestuous love" .
Animal Kingdom is a great TV show that I enjoy watching at any moment. I usually binge watch a season at a time because it has about 12 or 13 episodes per season and the storyline runs fast. The acting is great, the script offers both action and character development. There's drama, crime, crazy, love, sex, drugs, unexpected endings and fucked up shit. It keeps you on your toes, all whilst making it look pretty (not only hot men, but a hot grandma, too). Sometimes they go overboard on certain things (too many drugs consumed, too much angst for J, too much of the "I'm young and stupid and naive" for Nicky), but most of the show is believable and cool.
The characters are very interesting. Baz (Scott Speedman) is the charismatic one, who handles the money and the organizing of the jobs. Craig (Ben Robson) is the naive kid who hasn't grown up yet, and basically spends his time doing drugs and having sex. Deran (Jake Weary) is quiet and a bit mysterious, but loyal. Pope (Shawn Hatosy) is crazy and volatile, but a family man at heart. Smurf is the matriarch, the head of the family. She is by far the most dangerous of all of them. Ellen Barkin does a fantastic job in this series, and I must say: damn, she is hot for a 60 year old. And J? Well, J (Finn Cole) is a mystery, even three seasons in. You never really know his intentions or what he really wants- you just know he's very smart and can easily hold his ground among the wolves. Acting wise, Ellen Barkin, Finn Cole and Shawn Hatosy stand out, but overall they all do a great job.
I can't go in too much details, since there are 3 seasons already out, but let's just say, in Animal Kingdom you can expect incest, burying a body in the dessert, a church heist, a person fed to the sharks, and some Spanish jail buddies.
I hope I got you curious: try it and let me know what you think!